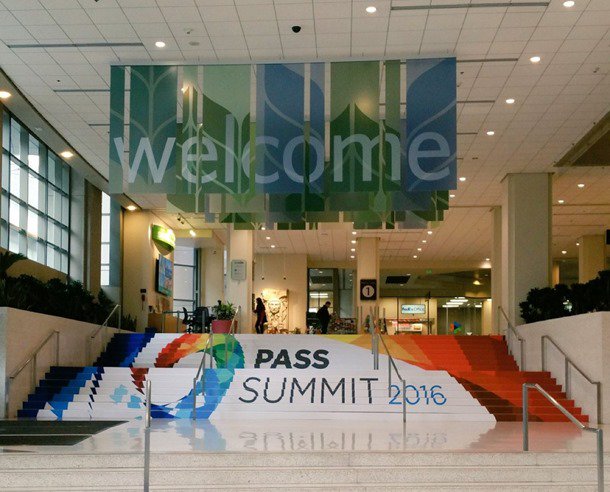 As all Summits, the first Regular Session day in Seattle started with the Keynote. Well, really it starts with a great breakfast at the Seattle Convention Center, but I digressed. Microsoft released information about new features for its Microsoft Data Platforms. The Keynote provided Customer specific examples of some of the newer features being used plus Program Managers demoing great examples of what is to come. For a summary, go to watch the PASStv Recap. A feature I am looking forward to seeing in action is Analysis Services in the cloud.
Congratulations to Malathi Mahadevan as PASS Outstanding Volunteer of the Year. She is a great representative of the PASS community and people love her service and passion.
The Summit is an amazing trip.Wednesday, I spent time with Bill Anton rehearsing a 3 hour Analysis Service Performance Tuning session for Thursday he has put together. His knowledge of this subject is top tier so I learned a lot. I spent time in the Speaker Ready talking and practicing for a session on Excel Tips & Tricks With SSAS Cubes. This session takes all the technical work we IT people put together in a Cube and start to have some fun with it. What amazed me was half the people in the session (there was at least 100 attendees) were Cube builders. They were in the session to find out how people use cubes in Excel to develop better cubes. That is a lot of people still building cubes.
Before the Vendor Reception, I spent time after the Excel session talking to an attendee. He was very unique to me because he was not an IT person, but hired as a Financial/Accounting analyst. He was using data feeds from their hosted applications in PowerBI. It was difficult to explain to him the difference between a Cube, the Tabular Model, PowerPivot AND the modeling in PowerBI. Dimensional Modeling might be to advanced for him, he just wanted basic table design hints.
He was also concerned that there were not enough beginner T-SQL and database design sessions available for him at the Summit, so I spent time with him going through all the remaining session that were a fit for him plus vendors he should visit. He has never heard of Pluralsite or other online training like from PragmaticWorks. We exchanged business cards and wished each other a pleasant week as we walked past the Community Zone and into the Vender Reception.